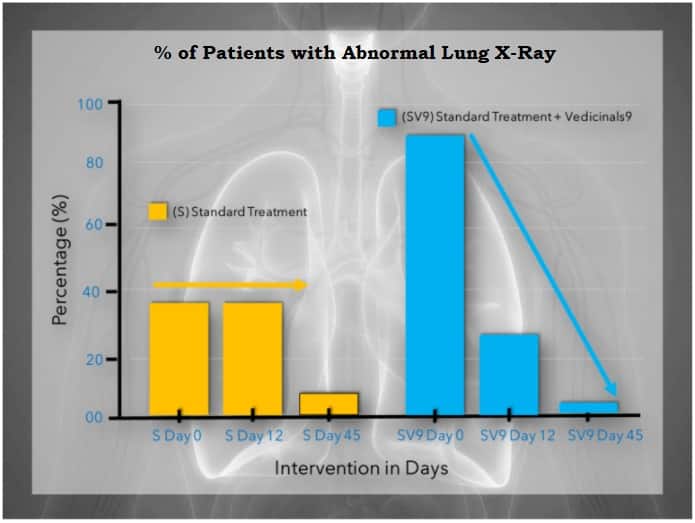 18

June 2021
VEDICINALS® 9 & Improvements Of Lung Damage In COVID-19 Patients
Although all patients were randomly selected, the patients in the VEDICINALS® 9 treatment group showed at onset of trial a much higher percentage of abnormal lung x-ray findings, probably by coincidence. The observed improvements, when compared to Standard Treatment Group are very remarkable.
X-Ray findings of COVID-19 positive patients from day 0 to 45. Data interpret following: Percentage of COVID-19 positive patients from day 0 to day 45, when vedicinals9 5000mg adjuvant to SOC with standard intervention compared with standard intervention alone. Data represented as percentage of patients with abnormal findings of X-ray in two comparable interventional group (n=62 per group).
Before the start of the treatment at day 0, 37.10% (23/62) of cases had abnormal x-ray findings in standard group and 90.32% (56/62) in VEDICINALS® 9  adjuvant to SOC group. After 12 ± 2 days of treatment, only 22.95% (14/61) of cases had abnormal findings in VEDICINALS® 9 adjuvant to SOC group resulting in 77.05% (47/61) of cases with normal findings compared to standard group alone which showed no change at all from day 0.